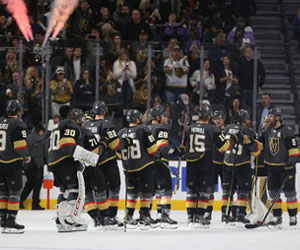 With just two months remaining in the regular season, NHL betting is heating up as teams fight for the spot in the Stanley Cup playoffs. The 2019-20 season has produced some elite teams but the gap between those conference leaders and the bottom of the standings isn't as great as previous years, which means anything can happen in the home stretch of the schedule.
Only the best handicappers are betting the NHL odds this week, here are some edges and angles to keep in mind.
Wild wager
The Minnesota Wild are stuck near the bottom of the Western Conference standings, currently sitting sixth in a very competitive Central Division. However, Minnesota is building momentum on the back on three straight wins and six victories in its past 10 contests. The Wild have earned 3.3 units of profits during this three-game streak, outscoring opponents 10-6 in that span.
Defense has been the soft spot for Minnesota this season, allowing an average of 3.3 goals per game on the year. But the Wild have wrangles those issues in the past month, giving up two or fewer goals in six of their past eight contests. Minnesota will hold underdog betting value in its upcoming schedule, facing some solid teams like Colorado, Vegas, and Vancouver over its next five outings.
Sin City starts
The Vegas Golden Knights don't waste time lighting up the scoreboard, especially when it comes to home games. Vegas, which averages 3.26 goals for and 3.19 goals against inside T-Mobile Area, is the best first-period Over bet in the NHL when playing on home ice. The Golden Knights have topped the first-period total in 19 of their 27 home games this season.
Vegas will be in Sin City more often than not in the coming weeks after returning home from a grueling eight-game road trip that started on Jan. 14 and spanned the annual All-Star break. That means the Golden Knights are on home ice for six of their next seven games and 10 of their next 12, stretching to March 3. Fans of first-period totals will want to keep a close eye on Vegas' derivative Over/Under odds during this stretch.
Singing the Blues
The defending Stanley Cup champs are mired in a nasty tailspin that's lasted almost a month. St. Louis has just two wins in its last eight games and is hanging on to the top spot in the Central Division by a thread, with Colorado and Dallas gaining ground. The Blues have watched their offense go ice cold during this skid, getting outscored 32-24 in those eight games while scoring two or fewer goals in four of those outings.
While those fading St. Louis during this time frame have walked away happy, Over bettors have also profited from the champion's regression. The Blues have played Over the NHL betting totals in six of their last 10 games, with two pushes in that stretch. That Over streak could continue against upcoming opponents like Anaheim, Vegas, and Nashville – all of which have leaned more toward the Over this season.