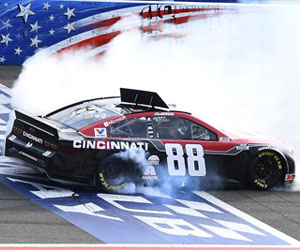 As sports betting explodes in popularity, the best handicappers are meeting the growing demand and attracting new players with a wide variety of betting options. That means that bettors don't just have to settle for pointspreads, moneyline and Over/Under totals.
As we get closer to the spring, we look at some of the best and most exciting alternative odds markets available for a number of sports on the odds menu.
NCAA basketball: Race to 20
March Madness is never short on excitement with plenty of surprises coming out of the opening rounds of the NCAA tournament. But if you want to crank that energy to 11, then the "Race to 20" prop is for you. The concept is as simple as it sounds: you bet on which team will reach 20 points first on the scoreboard.
Oddsmakers will set the odds for each team, adjusting the vig on the favorite, and then bettors buckle in for a back-and-forth battle in the opening minutes of the game. This prop is great during March Madness, especially for those looking for underdog value, as a number of higher-seeded teams start slow and often lose the race to 20 before turning it on in the second half. It's a quick and thrilling way to get the blood pumping during the NCAA tournament.
MLB: Five-inning odds
Due to the importance of starting pitching in the MLB oddsmaking process, sportsbooks will often offer odds sets – moneyline, runline and total – for the opening five innings of each game. This condensed fraction keeps the focus and results based on those starters, rather than have a game go off the rails once those pitchers are relieved by the bullpen.
Five-inning odds are slightly different from the full-game markets – obviously totals are shorter – and most often are a little more expensive to play, as bookmakers will increase the juice for moneylines, runlines, and even go beyond the flat -110 rate on betting the total. But if you're willing to pay the extra vig you can avoid having your heart broken by late-game gaffs and bad bullpens.
NASCAR: Groupings
A lot can happen when you have 30 race cars barreling around a track for 200 laps. Most NASCAR Cup Series odds are limited to outright race winner and head-to-head matchups, picking which driver will finish ahead of the other. Groupings, however, add another driver to the mix and ask bettors to select which one comes out ahead.
Groupings not only offer a more significant payout – due to being a bit more difficult to prediction than head-to-head odds – but really allow you to enjoy all of a race, even when your selection isn't running up front. Certain drivers and even manufactures have better success on certain courses, so dive into past results to find an edge when betting NASCAR groupings.
NHL: First-period totals
Derivative markets are becoming more and more popular, as bettors really dive into the analytics behind a team's success. First period odds for NHL is a growing sub-section, with totals garnering the eyes of many sharp bettors. Just like the name says, bettors pick Over or Under the number of goals scored in the first period.
With most full-game NHL totals set between 5.5 and 6.5 goals, first period Over/Under usually hit the board at 1.5 with varying vig based on the scoring prowess and defense of each team. The nightly hockey schedule can create some decisive streaks and slumps for teams when it comes to scoring, so follow those closely and also monitor which teams like to come out swinging and which ones ease into the action in the opening 20 minutes of play.