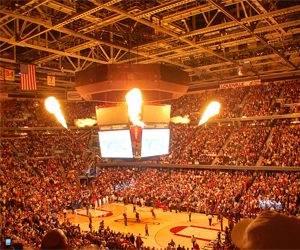 The NBA season is almost a month old and basketball bettors are noticing some definitive trends when it comes to watching and wagering on sports bet odds in the NBA. We take a look at some of top stories for NBA betting in the early workings of the schedule and if these will continue throughout the year. Which ones are true and which ones are false?
Cavs can't cover – True
The Cleveland Cavaliers have stumbled out of the blocks, taking a 4-6 SU record and 2-8 ATS count into Tuesday's home game against Milwaukee. LeBron James & Co. don't look anything like the dominant Eastern Conference champs from last season, and well… that's because this is a very different team.
Of course, the biggest difference is that Kyrie Irving is playing for the Boston Celtics, taking away one of Cleveland's top scoring options and a tremendous talent in the crunch. Cleveland got point guard Isaiah Thomas in return but he's yet to take the court due to a hip injury and won't be in action until 2018. On top of that, the Cavaliers have other new faces in Derrick Rose and Dwyane Wade clogging up any chemistry in the backcourt.
Cleveland won't struggle the entire season, in terms of wins and losses. The Cavs are too strong, the East is too weak, and they still boast the best player on the planet. Against the spread, however, Cleveland will maintain its "bad bet" status. As long as they hold a high profile with public players, the Cavaliers will draw larger spreads – even more so once they actually start winning games on a regular basis.
Sixers' success – False
The Philadelphia 76ers were one of the best bets in basketball last season, going 49-33 ATS, and have maintained those winning ways in 2017-18. Philadelphia is 7-2 ATS to open the new schedule, going 5-4 SU. The Sixers have a stigma as a terrible team from years of underperforming but boast a surplus of young talent. They're scoring 107.7 points per night and hitting almost 40 percent from 3-point range. That's helped the 76ers keep cashing in, but the secret could be spoiled on the Sixers soon.
Basketball bettors are much savvier than years past and outstanding ATS trends tend to dry up quick once the public catches on. Philadelphia is also missing some key contributors with Joel Embiid sitting out games and No. 1 overall pick Markelle Fultz on the shelf with a shoulder injury. Philly has a Western Conference road trip starting Tuesday, that will test the depth and focus of this young squad and likely even out the Sixers' ATS results.
Spurs in survival mode – True
The Western Conference may finally be passing the San Antonio Spurs by. With the emergence of super teams like the Warriors, Rockets and Thunder, San Antonio has much more competition in the conference but is still relying on some veteran bodies to keep it relevant. Aging legs like Pau Gasol, Tony Parker and Rudy Gay are slowing down and top talent Kawhi Leonard has been injured to start the year.
The Spurs don't get much of a break in the West and still have a big target on their backs after serving as the conference gatekeeper for all those years. And to be honest, they haven't played the toughest schedule out of the blocks, outside of losses to Golden State and Boston. San Antonio is just 6-4 SU and 5-5 ATS entering Tuesday, but if the roster keeps thinning – and the veterans can't stay productive – not even head coach Gregg Popovich can keep the Spurs afloat.