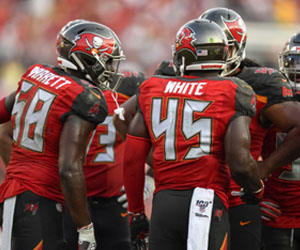 With Week 13 bringing the NFL betting board into Thanksgiving, now is a great time to look at the best and worst bets for the 2019 season. Some are surprises. Some, not so much. Top handicappers breakdown why these teams are winning and losing for bettors and if that will continue in the final five games of the season.
BEST SPREAD BET: Arizona Cardinals 7-3-1 ATS
Arizona is one of those surprise teams, given the Cardinals are led by a rookie quarterback and rookie head coach. Kyler Murray and Kliff Kingsbury have stayed competitive for the most part this year, with Arizona owning an average margin of -6.3 per game. The Cardinals have been sizable underdogs most weeks and seem to be improving with every game. They close out the schedule with two meeting against the struggling Rams – Week 13 and Week 17 – and play the Steelers, Browns and Seahawks in between. Arizona should be catching the points in each of those games – save for maybe Pittsburgh at home in Week 14.
WORST SPREAD BET: Tampa Bay Buccaneers 3-8 ATS
The Bucs aren't as bad as their against the spread record would indicate. The Tampa Bay defense has been aggressive with the pass rush and the offense can still exploded for big strikes. However, quarterback Jameis Winston is a liability every time he drops back – with 22 touchdowns and 20 interceptions – and the secondary is second last in the NFL at defending the pass. The Buccaneers have a light schedule to end the season, with three of the final five games at home. They visit Jacksonville in Week 13 and head to Detroit in Week 15, playing home dates against Indianapolis, Houston and Atlanta around those away games.
BEST OVER BET: Tampa Bay Buccaneers 9-2 Over/Under
Remember when we said the Bucs secondary stunk? Well, that's part of what is fueling the best Over bet in football right now. Tampa Bay is giving up 30.5 points per game, and all those Winston turnovers are allowing foes to have extra cracks at the football. As for the offense, the Buccaneers are putting an average of 28.4 points per outing on the scoreboard – third in the league – which is a perfect recipe for total-topping finishes. The Bucs, surprisingly, do their best scoring on the road, with a 23.8-point average at Raymond James and a 31-point scoring clip as the visitors. Tampa Bay plays just two of its final five games on the road.
BEST UNDER BET: Buffalo Bills 3-8 Over/Under
Buffalo is tied among six NFL teams with 3-8 Over/Under records so far in 2019, but we're going to give them the nod here since they've also been one of the best ATS plays as well, boasting a 7-3-1 ATS mark (tied with Arizona). Buffalo's defense currently ranks third in points and yards allowed but has played a less-than-challenging slate of games. The Bills offense isn't terrible, scoring 21 points per game, and has improved in recent outings with over 24 points averaged over their last three contests. Buffalo finishes of the schedule with a Thanksgiving date in Dallas – one of three road stop in the final five weeks. The Bills are 1-4 Over/Under as visitors this season.