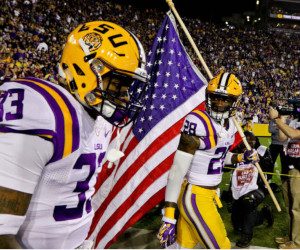 The college football season is picking up speed, as teams enter Week 3 of the schedule. There are a number of notable matchups for football bettors to pick through. If you're looking to lock in your bets – and viewing schedule – circle these marquee matchups on your calendar and choose the
best picks
:
LSU Tigers at Auburn Tigers (-9.5, 45)
A tale of two tigers in the SEC has the Auburn version giving almost 10 points to LSU Saturday. War Eagle looks great out the gates with a huge win over Washington in Week 1 and a cakewalk victory versus FCS Alabama State last week. Auburn is pounding the football on the ground and locking up opponents through two games, most notably limiting a very potent Huskies attack to just 16 points.
Louisiana State also recorded a resume win in Week 1, stunning the Miami Hurricanes with a one-sided victory. The Tigers took down FCS Southeastern Louisiana with ease last week and didn't roll out their full game plan, hoping to save that for this Week 3 war. The Bayou Bengals don't have the same weapons on offense as Auburn and have suffered some bad injuries to key players, namely linebacker K'Lavon Chaisson. He'll be missed against Auburn's attack Sunday.
The home team has been the smart bet in recent meetings between these programs, with the host covering in each of the last four matchups between Auburn and LSU.
Ohio State Buckeyes at TCU Horned Frogs (+12.5, 58)
The Ohio Buckeyes play their final game without suspended head coach Urban Meyer when they head to the Lone Star State to play Texas Christian. The Buckeyes have been monstrous in their first two games, destroying Oregon State 77-31 and rolling Rutgers 52-3 – covering as massive chalk in both of those games. This will be the first true test for OSU, which sits second in the country in total yards and average points per game.
The Horned Frogs have also started with a bang, putting one-sided wins on FCS Southern and SMU in the opening two weeks. Texas Christian's biggest weapon is dual-threat QB Shawn Robinson, who leads the team in passing and rushing while combining for seven touchdowns so far this season. Robinson isn't the most accurate passer when looking long, and this savvy Buckeyes defense could take away the short field and force TCU to stretch its offense further than it would like.
Ohio State has covered in six of its last eight matchups with Big 12 schools while TCU is 1-4 ATS in previous five run-ins with the Big Ten.
USC Trojans at Texas Longhorns (-3, 49)
We get a rematch of the 2006 Rose Bowl when the Southern California Trojans visit the Texas Longhorns Saturday. Texas will likely be without top rushing star Keaontay Ingram, who is dealing with a bone bruise on his knee. Ingram is averaging 6.3 yards per carry and is also a viable receiving threat, taking away a huge piece of the puzzle against a talent Trojans defense. Tre Watson and Daniel Young will pick up the slack on the ground game, combining for 194 yards in two games.
Southen Cal is back peddling after a bad loss to Stanford in Week 2. The Trojans managed just a field goal in the 17-3 loss, and were plagued by two interceptions from quarterback J.T. Daniels. He injured his hand in that loss, leaving for a series with what would be later diagnosed as a hand bruise, but is expected to start Saturday. He'll be the target of an experienced Texas stop unit that has much to prove after two bad outings – losing to Maryland and only edging Tulsa by seven points.