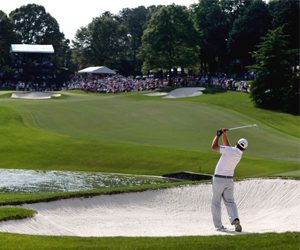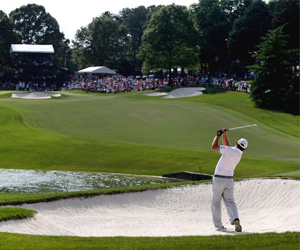 Golf is the perfect summer sport, whether you're out on the course or betting on the PGA action every week.
For many of the 
best handicappers
, the summer is their first and only venture into the golf odds, with major tournaments like the Masters, U.S. Open, British Open and PGA Championship bringing PGA bettors out of the wood work.
If you're new to the wonderful world of golf betting – or just need a refresh on basic handicapping strategy – here are some tips and tactics to follow before taking a swing at the weekly golf odds.
Current form
This is the most important aspect when oddsmakers cook up the weekly golf odds, so it should be the first thing you consider before placing your bets. Golfers are streaky beings, and when they catch fire they can almost be like free money out on the course. Keep a close eye just not on who's winning tournaments but who's constantly finishing inside the Top 25, Top 15, Top 10 and Top 5.
Those consistent players will not only give you a chance to cash in a bet for the outright winner for the tournament but are golden when it comes to head-to-head matchups and round props.
Past success
Some golfers always perform well at certain tournaments, be it the stakes or prestige that drives them – even when the tournament bounces between different venues. Majors like the U.S. Open and British Open are played on challenging tracks that throw a lot of hazards and rough at players, and there are guys who have the skill set to avoid those pitfalls.
Other tournaments promote more wide-open and distance play, giving an advantage to those big strikers off the tee box. The weather and wind can also impact an annual tournament, and there are golfers who grew up playing in bad climates that can adapt to those elements.
Course success
Much like tournament-style success, many golfers have their favorite courses. While the PGA Tour is constantly shifting things around at these course – moving tee boxes, green and pin placement, and adding new hazards and rough length – certain players find themselves at home on particular courses.
Before pulling the trigger on a wager, make sure you look at past history of that player and how his finishes stack up on this week's course compared to his average performance for the season. This is often an opportunity to fade a hot golfer coming to a course they've struggle at in the past, since the odds will be skewed toward their current form.
Rest and injuries
You don't think a sport like golf would put too much wear and tear on the players, but remember we only see them golfing four days – if they make the cut – out of the week. The other three days, they're traveling, playing practice rounds, working with trainers, and cramming in time with family and friends. It's a very hectic schedule.
Some players like to take a tournament off from time to time, especially heading into a major event, but others must compete each and every week to stay afloat. Take a good look at downtime and rest for a potential bet before submitting your wager.
Injuries are also a big part of golf, with shoulder, hip, back and knee issues a constant burden on professional golfers. Beware of players gutting it through injuries or coming off long layoffs due to rest and rehab. Do some digging and see if you can gain insight into their preparation, practice rounds, and even mood heading into a tournament.