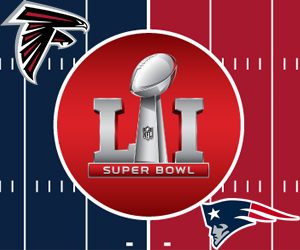 A game this big can't be contain to just a pointspread and total. Super Bowl LI has a massive market of props and alternative bets, from specific game and player props from the Falcons and Patriots to those silly halftime show wagers.
It's tough to see the forest through the trees when you have this many wagering options on the board, so in this and other sports handicapping articles we will narrow down the scope and draw attention to these value prop picks for Super Sunday:
First quarter total
We see it in every big game, whether it's football or any other sport. Players are a little tight and nervous in the early going. That can lead to some bobbled balls and dropped passes. There has been a grand total of 37 points scored in the first quarter in the last five Super Bowls – an average of 7.4 points per opening 15 minutes.
The last time there was more than 10 points scored the first quarter of a Super Bowl was 2011 when the Packers jumped out to a 14-0 lead over the Steelers in the opening frame of Super Bowl XLV. But despite that low-scoring trend, oddsmakers constantly tab the first quarter with a higher-than-expected total. And this year is no exception, with a 13-point first quarter total.
Sure, both the Falcons and Patriots can score but as we mentioned, players are a little amped up and out of sync in the opening minutes of the Super Bowl. Betting on those jitters and the Under could be the smart way to go with the first-quarter total.
Super Bowl inexperience
The Falcons are making their first Super Bowl appearance since 1999 and this the biggest game in the career of Atlanta quarterback Matt Ryan. Even though his nickname is "Matty Ice" for his cool and calm demeanor, no man is immune for the Big Game nerves.
There's a good chance Ryan tosses an ill-advised pass at some point in the game – he'll have plenty of chances – and early panic could set in, leading him to scramble for gains when receivers aren't open.
With that in mind, prop bettors looking to trim the vig on some of these offerings can actually pump up the value on two Ryan betting propositions if they tie them together with a parlay. This may or may not be offered at your current sportsbook, so shop around.
Ryan is -120 to throw an interception in Super Bowl LI and the Over 2.5 yards on his first rushing attempt of the game is at -150. As single wagers, you're paying a bit of the price and betting $100 on each would net $83.33 and $66.67 respectively ($150 all together). But when parlayed, a $100 wager on these props pays out at $205.56 of total profit. That's more than $55 extra with little risk involved for that boost in payout.
Get a kick out of it
A rarely-mentioned topic heading into Super Bowl LI is just how good each team's kicker is. Patriots kicker Stephen Gostkowski and Falcons boot Matt Bryant are elite players at their position, with Gostkowski boasting plenty of experience performing under pressure and Bryant ranking second in field goal percentage this season.
With kickers that reliable, Bill Belichick and Dan Quinn won't shy away from trying long field goals for a game in which points could come at a premium. And with the game being played indoors at NRG Stadium in Houston (the roof could be opened), conditions couldn't get much better for these two guys.
Oddsmakers have the set the Over/Under on longest field goal at 45.5 yards with the Over set at -130. There are also props on the total amount of field goals by both teams, set at 3.5 Over (Even), and total yardage of all field goals made, Over 123.5 yards -110.
Kickers aren't the most sexy Super Bowl topic but they could be one if its most profitable. Bettors should feel confident in backing the Over in most of these props.