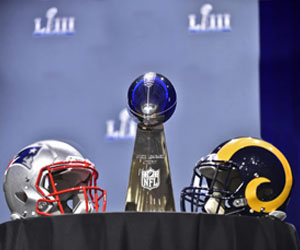 With two weeks of analyzing the Super Bowl odds and the matchup between the Los Angeles Rams and New England, there is no stone unturned when it comes to capping the Big Game betting markets.
It's easy to sing the praise of both NFC and AFC title winners, but when it's all said and done on Sunday it will be these teams' flaws that decide who gets to party with Lombardi. We, the best handicappers, break down the biggest weakness for Los Angeles and New England and how their opponent can exploit that soft spot:
Los Angeles Rams' biggest weakness: No deep threat
The Los Angeles Rams offense was very dynamic this season, but something broke in the playbook when slot receiver Cooper Kupp was lost to a knee injury in mid-November. Robert Woods, along with Brandin Cooks, gave L.A. two legitimate deep-threat targets and stretched the field, opening up space for passing underneath as well as the rushing game.
Since losing Kupp, the Rams offense has not been as dangerous. Woods has had to step into the role of slot receiver and Cooks has drawn the attention of opponent's top receivers and is being used more as a decoy than a real home-run hitter downfield. Quarterback Jared Goff has had to keep most passes short and simple, and that's taken much of the bite out of this offense and made them easily to predict.
The Patriots are fantastic at making opposing No. 1 targets disappear. They locked down Tyreke Hill in the AFC Championship Game and know Cooks very, very well from his short time with New England. Taking away the threat of the deep ball allows the Patriots to keep everything in front of them. And while they may bend for yardage, they don't break in the red zone. That could leave L.A. settling for field goals, which is something you can't do against Brady and Belichick.
New England Patriots' biggest weakness: Overrated defense
Funny enough, you could also point to the Patriots' lack of a deep threat since losing Josh Gordon to off-field issues. In his brief stint, Gordon was a favorite of Brady and had a few huge scoring plays for this team. However, there is an equally-large issue on the other side of the ball for the Patriots, and that's the defense.
New England ranked 21st in yards allowed and seventh in points against, giving up just 20.3 points per game. But if you look at the two halves to New England's schedule, the quality of opponent – specifically on offense – changed dramatically. The Patriots allowed an average of 25.6 points over their first seven games, facing some quality opposition in that span.
However, in the final nine games of the year, New England matched up with some of the worst scoring attacks in the league and it showed in their defensive returns. The Pats stop unit gave up an average of only 16.2 points in that span, a difference of over nine points compared to the opening slate of contests. We've seen this misconception exploited already in the playoffs, with the Patriots allowing 59 total points in their two playoff games.
The Rams ranked second in scoring this season, putting up 32.9 points per outing. Los Angeles was able to handle two very good defenses in Dallas and New Orleans, and have a roster loaded with scoring threats including RB Todd Gurley, who can hurt the Pats on the ground and through the air.