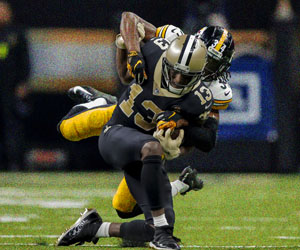 There are many ways to handicap the NFL preaseason sports betting trends and odds but one of the tried and tested methods is backing teams with reliable QB down the depth chart.
Many teams won't player their No. 1 quarterback in the exhibition games or limited their snaps to the first quarter, leaving the fate of the game – and your wager – resting on the untested shoulder of the backups. Some of those passers are veterans with starting experience on their resumes while others are first and second-year QBs with little to no pro action.
We look at the deeper QB depth charts heading into the first full week of preseason action, as well as some of the QB corps in question.
New Orleans Saints
The Saints will likely tread lightly with star quarterback Drew Brees, who threw only nine passes in Week 3 of last year preseason. But behind Brees, New Orleans has some proven and exciting options under center.
Teddy Bridgewater is the No. 2 passer on the depth chart and proved he was back from a devasting knee injury suffering in 2016 with a strong showing in last year's exhibition slate, completing 73.7% of his passes for 316 yards and two touchdown over three preseason appearances.
Next up is Taysom Hill, the do-it-all second-year talent out of BYU. Hill turned heads in last year's tuneup games, with 365 yards passing to go along with 161 yards rushing and four combined touchdowns.
Jacksonville Jaguars
Anything's better than Blake Bortles at this point, right? The Jaguars sent him packing and signed Super Bowl MVP Nick Foles. Foles played limited snaps for the Eagles in last year's postseason and given how much Jacksonville paid for the passer, don't expect to see much of him in August.
Instead, the team will be looking to lock up the main backup role, switching between Gardner Minshew, Tanner Lee, Alex McGough – all of which have never played in the regular season. Minshew shattered Pac-12 passing records as a grad transfer at Washington State last year, but that was more a product of the Cougars pass-happy offense and soft Pac-12 defense.
Lee is a retread after being drafted then cut in 2018 following some brief exhibition appearances only to be signed again this offseason. McGough was originally drafted by Seattle but cut then picked up by the Jags. He had a solid preseason in 2018, passing for 416 yards and three touchdowns
Washington Redskins
The Redskins brought in Case Keenum to keep them afloat until top draft pick Dwayne Haskins was ready to go. Keenum had a forgettable year in Denver last season after a resurgence in Minnesota in 2017. In terms of preseason QBs, the former Houston Cougars standout is a pretty solid option.
Haskins has looked pretty good in camp and is neck and neck with Keenum for the Week 1 nod. He will take over under center at some point this season, and should use the preseason as a springboard to that No. 1 role. He's mobile and has a strong arm, passing for more than 4,800 yards and 50 touchdowns at Ohio State last season.
Colt McCoy is the third option at QB for the Redskins. McCoy has been in the league for 10 years, most spent as a second or third-string passer. He's coming off a broken leg suffered in Week 13 of last season but has made things interesting at camp when it comes to the QB competition.