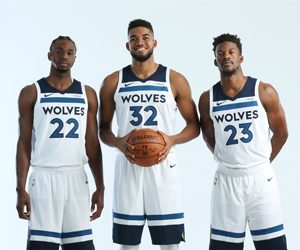 Sports bettors know all too well that no wager is safe until the final buzzer. No matter how many points your play is covering by, you should never start counting your money – especially when betting these NBA teams.
We look at three NBA teams that come out firing in the first half but hit the wall in the final two quarters, keeping basketball bettors on edge until the clock reaches zeroes. Prepare yourself for a roller coaster when wagering the sports bet odds on these teams.
Washington Wizards (6-5 SU, 5-6 ATS)
The Wizards don't waste time getting to work, averaging an NBA-best 60.3 points per game in the first two quarters this season. Washington has also held opponents to 54.6 points per first half, boasting a +5.6-point margin heading into halftime. But whatever it is that the Wiz do while in the locker room, it hasn't benefited NBA bettors, with them returning to the floor for a -2.3 margin in the second half.
That scoring average plummets to 50.5 points in the final two frames – almost a 10-point difference – while the defense relaxes for 52.7 points against in that same span. This issue has been compounded at home, where Washington is 1-5 ATS and failing to cover some lofty spreads as a favorite in each of those games, burning bettors who thought they had a sure thing in the first half.
Minnesota Timberwolves (7-4 SU, 5-5 ATS)
Minnesota entered the season with a ton of hoopla, after adding shooting guard Jimmy Butler around young talents like Karl Anthony Towns and Andrew Wiggins. Their early-season results have been good – in terms of the win/loss record. However, NBA bettors have been left holding a losing ticket in half of those games. And the blame can be put on the T-Wolves' second-half letdowns. Minnesota records 56.5 points per first half while limiting foes 54.5 points against – a +2-point margin through 24 minutes.
In the second half, the Timberwolves have watched opponents score 55.6 points – fourth worst in the NBA – while countering with just only 50.7 points of their own. That's a near -5 margin of defeat in the final two frames. Minnesota has shown improvement in recent contests, with a 4-1-1 ATS mark in its last six outings. But it does have some softer competition ahead on the schedule and that could mean some tall spreads to topple – an issue if those second-half power outages continue.
Cleveland Cavaliers (5-7 SU, 3-8-1 ATS)
The Cavaliers' problems closing out games are not only becoming an issue for NBA bettors, but for the success of the team itself. Cleveland nets an average of 57.4 points per first half – fourth most in the league – and puts up 52.4 points in the following two quarters, without much of a hiccup after halftime. Defensively though, the Cavs are as two-faced as they come between buzzers. Cleveland owns the worst first-half defense in the NBA, digging a hole by allowing 58.9 points against in the opening quarters.
The veteran squad just doesn't have enough in the tank – even with LeBron James leading the charge – to overcome that, allowing 55.2 points in the final two frames – a -2.5-point margin in the second half. That puts Cleveland among basement teams like Phoenix, Miami and Sacramento. On top of it all, you throw in inflated pointspreads each and every night, because it's LeBron and the Cavs, and you get sports betting poison. Cleveland's current ATS mark sinks it to the bottom of the Eastern Conference.