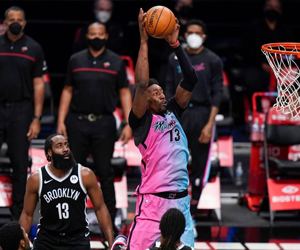 Two projected heavyweights in the East face off tonight in a possible Conference Finals preview.
Kevin Durant, James Harden, and the rest of the Brooklyn Nets will attempt to defend home court against a revamped Miami Heat team led by Jimmy Butler, Bam Adebayo, and newly acquired NBA Champion point guard Kyle Lowry.
These two teams represent opposite sides of multiple coins of NBA team-building.
The Brooklyn Nets feature two previous MVPs, another estranged All-Star in Kyrie Irving (who may or may not suit up for the Nets this season, depending on how firm he and the team dig into their respective COVID-19 vaccination stances), and multiple past their prime veterans who once dominated the league — a "super team" by all standards.
The Miami Heat have a trio of stars in their own right, but came into their stardom through grit and fundamentals, rather than flash and inhuman offensive excellence. Surrounding their "Big 3," are a combination of hard-nosed veterans and ambitious young players ready to excel in their own roles.
With KD and Harden (and maybe Kyrie), the Nets calling card will always be their potential to overwhelm opponents with pure offensive bombardment. The Heat, on the other hand, will try to strangle their opponent's into submission with suffocating defense and surgical offensive execution.
Game Line: Nets -3.5-110 o/u 218-110
It's easy to side with Brooklyn's edge in top-tier talent, as well as their presumed home court advantage, but this would be a mistake.
So far in the season, James Harden has struggled, either due to the new rules that prevent foul-baiting or a lack of health or a combination of both. Regardless, the onus has been on KD to win games by himself.
With Harden struggling and Irving out due to non-basketball issues, the Nets have been able to claw to a .500 record behind Durant's pure talent.
But with the Heat's multitude of strong defenders in Lowry, Butler, Tucker, and Adebayo ready to counter KD's every move, one otherworldly performance from Durant won't be enough to outweigh Miami's depth and excellent team defense.
Unless Harden can revert back to his MVP form this game, the Heat aren't losing this game — and certainly not by more than a possession.
Even with Harden struggling and the Heat's preference to grind out games, there's simply too much offensive firepower on the court in the heavyweight bout for both squads to finish without scoring a lot of points.
Prop bets to watch on this game
Bam Adebayo is averaging 17 points and 14 rebounds thus far, so it's a pretty safe bet to say that he'll grab a double-double tonight and a good value at -110, especially considering Brooklyn's lack of size.
Durant is somehow listed at +165 for a double-double despite averaging 9.8 boards this season.
That's another good spot to bet.
"Keep shooting" pic.twitter.com/2ohG9g9eVz

— Miami HEAT (@MiamiHEAT) October 28, 2021
Handicapper911.com has a



2-star pick on this game. Click here to sign up!

The Handicapper911 simulation model, which simulates every NBA game thousands' of times, is up +31.45 units over the last three years. We have released 249 total games with 136 WINS and 113 losses for a win % of 54.62%. A $100 bettor of our NBA would have netted a profit of $3,145 and, a $1,000 bettor would have won $31,400. We have released only a handful of NBA games so far this season. Now is the time to sign-up and start winning.
| Title: Miami Heat @ Brooklyn Nets Betting Guide (10/27/2021)
| Author: Andy Quach
| Date: October 27, 2021