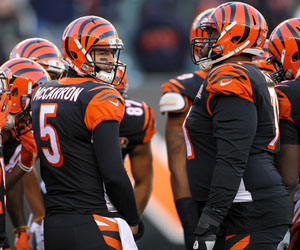 When it comes to the best handicappers NFL pointspreads, it doesn't matter if you win or lose: it matters by how much.
That means you can have great teams high in the standings ranking among the worst plays in football and you can find terrible teams with only a few wins earning cash by at least beating the oddsmakers' expectations.
As we get closer to NFL kickoff, here are some good teams that might not make good bets and some bad teams that could do enough to keep the bettors happy:
BAD TEAM, GOOD BET
Cincinnati Bengals
No team got bitten as hard by the injury bug in 2018 than the Bengals, who lost key talents on offense and defense. Cincinnati limped to the finish line with a 6-10 record but covered the spread in nine of those contests. The Bengals have some new blood on the sideline (finally!) in head coach Zac Taylor and could benefit from a down year in the AFC North, with Pittsburgh and Baltimore in transition spots.
The Bengals have a ton of offensive weapons, with Andy Dalton back from injury under center and throwing to A.J. Green and Tyler Boyd. That passing game is complemented by the emergence of RB Joe Mixon. Cincinnati's stop unit ranked dead last in terms of yards allowed and 30th in points against in 2018 – in part to the holes on offense (second last in TOP). Even a slight improvement should open up the window for Bengals bettors early on in the season.
GOOD TEAM, BAD BET
Dallas Cowboys
Dallas is "America's Team" after all, and with that status comes a lot of blind betting action from public players loyal to their Cowboys. Dallas is a solid team and will likely push for the postseason in the NFC East, but because of that fan appeal, the Cowboys spreads can often be screwed.
The Cowboys have a nice balance on both sides of the field, emerging as a top defense in 2018 and boasting offensive weapons like Dak Prescott, Ezekiel Elliott, and Amari Cooper. The team finished 9-7 ATS last season but was a shaky 3-5 ATS in the first half of the schedule. Dallas opens with the N.Y. Giants, Washington and Miami this year and will be a betting favorite in each of those games. Don't be surprised if those odds get puffed up with one-side bet counts on the Cowboys.
BAD TEAM, GOOD BET
Detroit Lions
Detroit is the forgotten team in the NFC North. With the Bears improving, Minnesota still stacked, and Aaron Rodger returning to form in Green Bay, Detroit isn't getting much love heading into the 2019 campaign. And that's the way Lions backers like it. Detroit finished 9-7 ATS in 2018, despite winning only six games, the first season under head coach Matt Patricia. There will be more continuity in 2019, as Patricia gets in his guys and players get more comfortable in his system.
Detroit QB Matt Stafford should have better 2019 after losing one favorite target to a trade (Golden Tate) and another to injury (Marvin Jones Jr.) last season. The Lions also lost RB Kerryon Johnson for the final five games of the year after he put up impressive numbers in his rookie campaign. The Lions benefit from a friendly schedule as well, catching non-divisional opponents in tough spots.