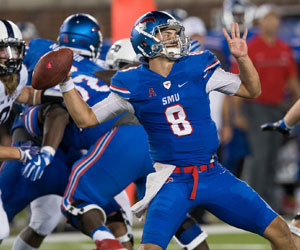 March is a long way away but it's never too early to start keeping tabs on possible NCAA tournament sleepers. The college basketball season is only a few weeks old but bettors have already seen some stunning upsets and impressive performances.
Here are four March Madness sleepers and some sports bet odds to circle and remember when the tournament comes around:
SMU Mustangs
Southern Methodist caught the attention of the country with its upset over Arizona in the Battle 4 Atlantis earlier this week. Then, as predicted by most savvy sports bettors, the Mustangs fell flat on their faces against Western Kentucky in the following game – we'll get to them later. Southern Methodist will be among the contenders in the AAC, bringing a stingy defense to the court each night.
The Mustangs rank fifth in opponent field goal percentage and are giving up only 61.8 points per game to start the season. On the offensive side, SMU isn't a scoring powerhouse but does shoot a higher percentage from beyond the arc, knocking down 39.8 percent of its looks from distance. That combo of defense and 3-point prowess is what March Madness upsets are made of.
Western Kentucky Hilltoppers
The Hilltoppers have opened with a challenging schedule, boosting their RPI in hopes of a tournament spot when the selection committee comes calling in March. Western Kentucky has taken on tough programs in Missouri State, Villanova, Purdue, and SMU – stunning the Boilermakers and Mustangs in Nassau.
The Hilltoppers need that strong non-conference slate due to the lack of depth in the C-USA and they're not done running into Power 5 programs just yet, looking ahead to a matchup with Wisconsin before the New Year. Western Kentucky showed scrappiness to battle for the loose balls and shot extremely well from the foul line, not missing out of those easy points.
Nevada Wolf Pack
The Wolf Pack haven't shocked a Power 5 program yet but have proven themselves against some tough mid-major squads. Nevada has wins over Rhode Island and Davidson and can add to an impressive RPI with games against Texas Tech and TCU on the horizon.
Nevada did lose some of its top talent last season but returned small forward Jordan Caroline and guard Lindsey Drew, and have power forward Elijah Foster for a full season. The Wolf Pack did a great job landing talented transfers as well, and that's helped Nevada score 84.3 points per game while giving up only 62.2 points against. This team made the NCAA tournament last season and will look to build on that experience and get past the Round of 64 in 2018.
Vermont Catamounts
The Catamounts didn't waste time turning heads this season, taking the fight to Kentucky in a 73-69 loss to the Wildcats at Rupp Arena as 12-point underdogs. Vermont has added wins over Coastal Carolina and Yale since that season opener and will get a chance to put some more respectable wins on its resume with upcoming games with Richmond, Marquette and St. Bonaventure.
The Catamount nearly stunned Purdue in the NCAA tournament last March and bring back all four top scorers from that team. Do-it-all small forward Anthony Lamb, who should be another year better as a sophomore, paces this team on both ends of the floor and a deep bench allows the Catamounts to roll out fresh bodies and absorb any injuries throughout the season.