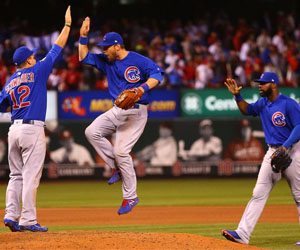 The MLB season is a 162-game slog that has ups and downs for even the sharpest handicappers. Runs will come and go, but there are some guaranteed sports picks to follow that should help your bankroll survive until October.
Dig into the dogs
MLB moneyline betting requires some finesse. You can't load up on costly favorites all the time: the risk of a big loss is too high and the returns are too low. One proven strategy is to limit yourself to short faves or better yet, only bet underdogs you see value in.
For example, betting three teams with odds of -130, -145, and -160 and winning just the first two wagers nets only $46 in profits for the $100 player. But carefully selecting three dogs at +105, +120, and +115 and winning just the first two games brings in $125 in profits so the same wager size.
Short underdogs, while holding a bit of risk (they're underdogs for a reason), have a much bigger return and will keep you in the black a lot longer than drinking all that juice with moneyline favorites.
Manage your money
Tackling the long baseball season takes a plan of attack, meaning you need to know how much you have to bet and how much you want to bet per game. Setting a simple money management system for yourself is a good way to stay above water during the dog days of summer.
Some suggest wagering between 1 and 5 percent of your bankroll on each game based on how strongly you feel about a play. If you have $1,000 to bet on baseball, then keep your limit to 5 percent – or $50 – for those plays you like the most. If you're leaning toward a side but aren't completely sold, wager a small limit.
Toss in totals
There are a number of baseball bettors out there that only deal with totals. In baseball, things like pitching and umpiring have a major influence on the Over/Under results, and plenty of cappers feel totals are easier to handicap than moneylines.
One thing is for sure, totals do offer better value in terms of vig. The highest juice you'll see on a total is -130, while moneylines can climb past -200 when you get a mismatch in talent or ace pitcher on the mound. Most Over/Under lines will open -110, so you're getting better bang for your buck and a bad bet won't be as damaging to your bankroll should you have an off day.
Beware of bullpens
Bad bullpens have been the scourge of baseball betting for as long as bookies have been taking bets. A perfectly capped play can all go up in flames in the final innings thanks to a rotten reliever.
For those who have been burned by bullpens once too often, or worry about them spoiling a wager, look to 5-inning odds. This option cuts the ball game down to the first five innings, putting more emphasis on the starting pitchers and takes the bullpen out of the mix for the most part.
Five-inning lines – be it side or totals – do vary from the full-game prices, and you'll likely pay a little more to play them. But when it makes the difference between winning and losing, that extra few cents to eliminate the chance of the relievers ruining your wager is a nice bit of insurance.
Sit one out
As mentioned above, there will be good and bad streaks throughout the course of the baseball season. And when things turn south, you can feel free to step away from the action for a day or two. Backing out while on a cold streak not only allows you to clear your head and vent emotionally, but you can't lose money if you're not betting.
After returning with clear eyes, you may want to take some time to backwards handicap that losing skid: ie figure out what the hell happened to your bets. Break down those games, see where things went wrong and what you missed when handicapping.