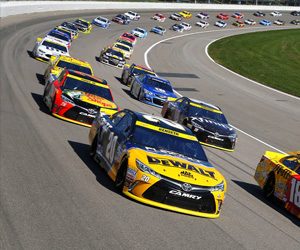 The Daytona 500 opened the 2018 NASCAR Monster Energy season and kicked off auto racing wagering for many sports bettors on February 17. The NASCAR campaign stretches all the way into the fall, with the playoffs starting in September.
If you're one of the 
top handicappers
 wagering on the fastest sport on earth for the first time or just need to brush up on the basics, consider this Drivers Ed for NASCAR bettors.
Horse for courses
Like golfers taking to certain courses that fit their skill set, NASCAR drivers have their favorites when it comes to weekly tracks. Racing bettors can get a head start on their handicapping by finding out which drivers do well on which race tracks.
The NASCAR series is basically broken down into four groups: Superspeedways, road courses, short tracks, and intermediate tracks. Each pose their own set of challenges to drivers, and all seem to see the same drivers excel on them from year to year.
Bettors should always be conscience of a driver's past history and any related trends when it comes to capping the courses. Some guys hold much more value on a short track than a restrictor-plate race on a Superspeedway, and there are even specialists that only drive the random road-course events.
Current form
This is perhaps the most universal form of handicapping, and both books and bettors look to current form first. Racing teams and drivers can ignite on a hot streak or fall into a skid at any point in the season, and we've seen more multiple week winners in recent years, with well-rounded drivers like Jimmie Johnson and Kyle Busch rolling into Victory Lane in back-to-back races.
There are a number of factors that play into these streaks and slumps, such as pit crews and crew chiefs, car performance, and overall team performance – the latter of which is often overlooked by bettors. While only one driver can finish first, NASCAR is very much a team sport and teammates will often help each other climb up the leaderboard on race day.
Qualifying and crashes
Weekly race futures are often on the board before the qualifying runs have been made and the positions for that race are set. Teams are always fine tuning their cars before and after these events, and a strong – or weak – qualifying run may not be automatically adjusted on the odds board.
Bettors will also want to mind any drivers suffering damage to the top car during qualifying. Teams often carry a number of different cars for specific race tracks. A crash in qualifying can leave a team scrambling to adjust a backup car to the current race conditions, putting a driver in an inferior ride compared to his competition.
Odds offerings
The foremost way to wager on NASCAR is to bet the race winner. While these odds do come with tempting payouts, with most drivers paying at least 3/1, it's a tough bet to cash when you toss in a massive field and an unpredictable sport.
Most sportsbooks do offer options beyond race winner odds, such as head-to-head driver props and group or "Speed Lanes" which give bettors three driver options to pick from. Instead of needing those drivers to win the race outright, bettors only need their selection to finish in front of the rival competitors involved in the prop.
Other NASCAR odds markets include Over/Under total laps led, Over/Under finishing positions, and manufacturer props, in which you bet on which car maker will board the race winner or most laps led.