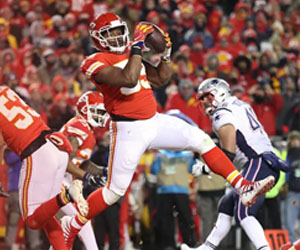 The AFC North could be the surprise division in the NFL this season. The Kansas City Chiefs are the odds-on-favorite to win the division again but the L.A. Chargers and even Oakland Raiders could upset the Arrowhead plans.
Here's a rundown of the sports betting trends and odds to win the AFC West during the 2019 NFL season:
Kansas City Chiefs -150
Kansas City caught a break when star WR Tyreek Hill avoided a suspension after a child abuse investigation this offseason. For a while, it looked like Pat Mahomes would be left with a bare cupboard in terms of targets. However, even with Hill burning up the sidelines, repeating 2018's success will be tough. More tape and analysis are out there on stopping Mahomes and this KC attack and the Chiefs defense is undergoing a complete overhaul under new coordinator Steve Spagnuolo. There's a big red target on Kansas City's back this season.
Los Angeles Chargers +200
The Chargers defense got the curtain pulled back in the postseason, after spending 2018 puffing up its numbers against less-than-stout competition. Los Angeles will benefit from a healthy Joey Bosa ruining a perfectly good Sunday afternoon for opposing quarterbacks. Running back Melvin Gordon is currently holding out for a contract extension, but the team didn't struggle much when he missed time in 2018 – thanks to Austin Ekeler. Philip Rivers is fighting off father time, as is his top target WR Keenan Allen, but fellow wideout Mike Williams may be the new star in La-La Land.
Denver Broncos +700
In Joe Flacco Elway trusts. The Broncos picked up another retread QB to bridge the gap until they finally unearth the next franchise passer, who might be 2019 draft pick Drew Lock. Denver does have some weapons in play, with RB Phillip Lindsay coming off a 1,000-yard season and WR Emmanuel Sanders returning from an Achilles injury that disrupted what was a strong 2018 campaign. New head coach Vic Fangio is trying to squeeze what glory is left in this Denver defense, leaning on veteran Von Miller. Major improvements need to be made to the rushing defense, which was pushed around for almost 120 yards per game last season.
Oakland Raiders +2,000
It's time to see if Jon Gruden is the real deal as the Raiders enter Year 2 of his second go-around with the franchise. Quarterback Derek Carr has zero excuses now that Oakland delivered All-Pro WR Antonio Brown from Pittsburgh. He's just one of a number of new receivers and chemistry and timing will be a concern early in the schedule. Defensively, the Silver and Black struggled to pressure passers after Gruden shipped Khalil Mack to Chicago before last season. And it isn't clear whether those needs were met in the draft and through free agency. It's likely another growth year for the Raiders before packing the bags for Vegas in 2020.