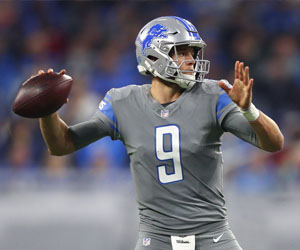 The fate of some NFL franchises are riding on the shoulders on an individual player this upcoming season, and therefor so are the hard-earned dollars of millions of the best handicappers.
These talents are entering make-or-break years, and we take a closer look at how they'll prevail in 2019 and how you can cash in betting on or against them.
Matthew Stafford, Detroit Lions
Stafford used to be mentioned among the elite passers in the NFL. Then Calvin Johnson retired and his name hasn't come up much when discussing the top quarterbacks, especially after a down 2018 campaign. Stafford passed for 3,777 yards – his lowest yardage total over 16 game for his career.
That dip wasn't all on Stafford. Detroit lost some skill players around him, trading away No. 1 WR Golden Tate mid-season and losing WR Marvin Jones to injury. Rookie runner Kerryon Johnson also got hurt, taking away a nice checkdown option for the QB.
Detroit isn't expected to do much in the NFC North, which is a division loaded with scary pass rushers. However, Stafford gets those bodies back, discovered a buddy top target in Kenny Golloway and added veteran Danny Amendola as a sneaky slot option. A better 2019 is in the forecast for Stafford and the Lions.
Jalen Ramsey, Jacksonville Jaguars
The Jaguars are two years removed from the AFC Championship Game and last year didn't look anything like the dangerous defense they once were. Jacksonville registered 55 sacks and 33 takeaways in 2017 – both stats ranked second in the NFL – and Ramsey was at the core of those game-changing numbers. He had four interceptions and his lockdown defending on top receivers resulted in plenty of coverage-induced sacks for the front seven.
The 2018 season saw the Jaguars stop unit get declawed, with only 37 sacks and 17 takeaways including just 11 interceptions. Ramsey was accountable for three of those picks and Jacksonville ranked second versus the pass, but those big plays just didn't come. The Jaguars stop unit needs to roll the dice and create those impact moments, and it starts with Ramsey – who can certainly talk the talk but will need to walk the walk in 2019.
Jacksonville plays in a loaded AFC South, with Indianapolis and Houston expected to battle for the top spot in the division. The Jags stunk against divisional rivals last season, going 1-5 SU in 2018, and start the season with a rough first six games: vs. Kansas City, at Houston, vs. Tennessee, at Denver and at Carolina.
Marcus Mariota, Tennessee Titans
Staying in the AFC South, perhaps the biggest make-or-break season in the entire NFL is Mariota's 2019 showing. The Titans QB has been plagued with injuries and inconsistency during his time in Nashville, with moments of absolute brilliance sprinkled in.
It's not all Mariota's fault. Former offensive coordinator Matt LaFleur has bailed to coach Green Bay and he was Tennessee's third offensive coordinator in the four years Mariota was with the team. On top of that, the Titans have lacked a true No. 1 receiver in that span and had a porous offensive line, allowing Mariota to get sacked 42 times in 2018.
Things might not be any better for Mariota this season. Arthur Smith has been promoted from tight ends coach to OC and the o-line didn't improve much over the offseason. The receiving corps has promise, but it looks like a lot of short-yardage options. Mariota and the Titans have the ninth toughest schedule in the NFL and play in a deep division.