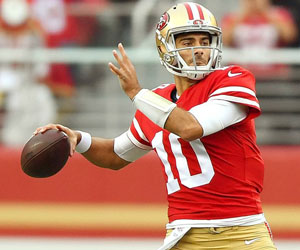 Along with the pointspread and total for Super Bowl LIV, MVP odds are among the first markets on the board for the big game on Feb. 2. The San Francisco 49ers and Kansas City Chiefs are loaded with standout talents and playmakers, and the top handicappers take a closer look at those top players and their chances of earning Super Bowl MVP.
Patrick Mahomes, Kansas City Chiefs QB -110
It's not surprising to see the former NFL MVP at the top of the board after what he's done so far in the postseason. Mahomes has pulled Kansas City out of two early holes, including a 24-0 deficit against the Houston Texans in the Divisional Round. Mahomes has over 600 yards passing and eight touchdown throws in two postseason games but now faces the top passing defense in the NFL.
San Francisco just locked down Kirk Cousins and Aaron Rodgers in their two playoff games and limited opposing quarterbacks to a rating of 84 on the season. That said, if Kansas City is to win the Super Bowl – and the early odds are leaning their way – chances are it will be because of Mahomes. Quarterbacks have won Super Bowl MVP 29 total times in 53 games.
Jimmy Garoppolo, San Francisco 49ers +325
Like we said, quarterbacks have won Super Bowl MVP almost 55% of the time and Garoppolo is the other QB featured in this game. His numbers have been very tempered in the postseason, with the 49ers passing on only 27 total plays in wins over Minnesota and Green Bay. He's completed only 17 of those attempts for 208 yards and one touchdown along with one interception.
On the season, Jimmy G totaled just under 4,000 yards passing with 27 touchdowns and 15 interceptions. His completion rate of 69% sits third overall among quarterbacks and this offense absolutely has the ability to strike for big gains. The Chiefs defense has been strong versus the pass, however, allowing only 6.2 yards per attempt on the year.
Raheem Mostert, San Francisco 49ers RB +600
After scoring four touchdowns in the NFC Championship, Mostert is getting plenty of respect in the Super Bowl MVP odds. While he's had the hot hands – or legs – for the 49ers rushing attack, this offense has three capable running backs to choose from.
The one thing that does give him a big boost in these futures is the shoulder injury to fellow back Tevin Coleman, who left the NFC Championship Game with that injury. San Francisco is hopeful Coleman can return, as he was the featured rusher in the win over Minnesota. If he can't expect Mostert's MVP odds to come down even lower.
George Kittle, San Francisco 49ers TE +1,300
The Super Bowl features two fantastic tight ends, probably the two best in the league, with Kittle and Kansas City tight end Travis Kelce (+1,500 to win MVP since Mahomes is priced so high). Kittle has been very quiet in the postseason, primarily used as a run blocker for this relentless 49ers' rushing attack. He's only been targeted six times for four catches and 35 yards in two playoff games, as rival defenses key in on the playmaking tight end.
Damien Williams, Kansas City Chiefs RB +1,500
Williams is a solid option if you're looking for value in the MVP props. Since he's the Chiefs running back, he can have a big day away from Mahomes' success where as any KC receiver needs Mahomes on the other end of those passes. That's not to say Williams doesn't see his share of passes coming his way. He's caught seven of 12 targets for 65 total yards and a receiving touchdown in the playoffs, to go along with 29 carries for 92 total rushing yards and three scores on the ground.