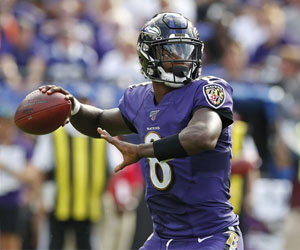 Monday's matchup between the Baltimore Ravens and Los Angeles Rams could have been a Super Bowl earlier in the season. But, while the Ravens have soared to the top of the AFC, the Rams have taken a tumble and are in serious trouble when it comes to their postseason hopes.
Oddsmakers have installed Baltimore as a 3-point road favorite. If you're betting on the NFL odds for Ravens at Rams, here are some sports betting trends to factor into your handicapping.
Running Ravens
The Baltimore offense is no longer catching opponents off guard, with its ground centric attack. However, the execution of that rushing game is so good, it's nearly impossible to stop. The Ravens take to the ground on more than 47% of their plays, averaging an incredible 5.7 yards per carry.
Quarterback Lamar Jackson gets most of the praise, picking up 781 yards on the ground so far this season, but he's complemented by a pair of very capable running backs in Mark Ingram and Gus Edwards, who combined for 160 yards on the ground in Week 11's blowout win over Houston.
The Rams rank fifth versus the run this season, allowing an average of just 89.1 gains on the ground per outing. Los Angeles allows only 3.3 yards per run – second lowest in the NFL – and limited the San Francisco 49ers – the second-best rushing attack in the NFL – to only 99 yards back in Week 6.
Ram tough
The Rams explosive offense of last season is no more. Los Angeles is managing only 24.3 points per game on the season and have posted efforts of 12 and 17 points in their last two outings. Thankfully, for L.A., the defense has kept its head above water.
The Rams stop unit has checked foes to 20 points or less in each of their past five games. Los Angeles gives up only 324.6 average yards per contests on the year but hasn't faced an offense like this Ravens playbook yet. The Rams have puffed up their recent defensive numbers by playing softer opponents, featuring quarterbacks like Mitchell Trubisky, Mason Rudolph, and Andy Dalton.
Baltimore is best known for its rushing game, but Jackson has grown tremendously as a passer in 2019. The second-year quarterback has averaged a modest 213.3 passing yards per game over the Ravens' last three outings but owns a stellar 134.1 passer rating in that span – tops in the NFL. Jackson has also throw for eight touchdowns without a single interception in that three-game stretch.
Total time
The Over/Under for Monday night opened at 46.5 points and has stayed steady at that number. Baltimore enters Week 12 with a 6-4 Over/Under record in 2019, including a 4-1 O/U mark on the road. The Ravens average 38.4 points as visitors, compared to 29.8 at home.
Los Angeles sits at 3-7 Over/Under entering Monday – thanks in large part to that underperforming offense. The Rams are 1-4 O/U at home, where they score 22.8 points and allow that very same average in points against per game.