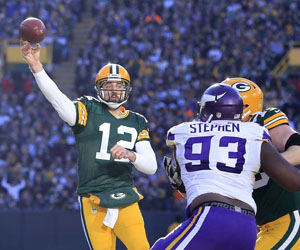 Playoff positioning and the division title is on the line when NFC North rivals meet on Monday Night Football in Week 16. The Green Bay Packers are 5.5-point underdogs visiting the Minnesota Vikings and hold a one-game lead over their rivals in the division standings.
If you're betting the NFL odds for Monday Night Football, here are some sports handicapping articles to factor into your handicapping.
NO COOK IN THE KITCHEN
It seems unlikely that Vikings running back Dalvin Cook will play in the Week 16 finale due to a shoulder injury sustained in last week's romp of the Los Angeles Chargers. Cook has been the battery behind this Minnesota attack, with 13 touchdowns and over 1,100 yards rushing.
That drastically changes the approach for this offense, which runs the ball on almost 50% of its snaps – second most in the NFL. Having Cook in the back field meant being able to hand off to a reliable runner and chew up yardage with the clock moving – keeping the ball out of the hands of Packers quarterback Aaron Rodgers.
Mike Boone will have the bulk of carries for the Vikings rushing attack. He managed to run for 56 yards on 13 carries against L.A. and found the end zone twice. However, he's not as versatile as Cook and doesn't pose the same threat in the short-passing game either.
Cheesy does it?
The Packers defense has looked very solid in recent weeks, limiting opponents to just under two touchdowns and 337 average yards against in the past three outings. Granted, those games came against some of the worst offensive teams in the NFL: Chicago, Washington and New York.
In their last meeting with a potent scoring attack, Green Bay was beaten down 37-8 by the San Francisco 49ers. The Cheeseheads are very dependant on turnovers, with the stop unit creating 23 takeaways on the season (15 interceptions and eight fumbles). But when those turnovers don't come, the Packers defense gets exposed and burn for going for the big play.
Vikings quarterback Kirk Cousins has had his share of ups and downs, but he's currently on the up swing. Cousins has played especially well at home, posting a total of 846 yards on a combined completion rate of 82% with four touchdowns and zero interceptions in his last three starts in Minnesota.
He was less-than-sharp in his previous meeting with Rodgers and the Packers, passing for only 230 yards on 14 for 32 completions with one touchdown and two interceptions. However, the last time Cousins played the Pack inside U.S. Bank Stadium, he torched Green Bay for 342 yards and three touchdowns.
Total time
The Over/Under betting total for Monday Night Football is set at 47 points. Minnesota enters Week 16 with an 8-6 Over/Under record, including a 3-3 O/U mark at home. Green Bay is 6-8 Over/Under in 2019, with a 3-3 O/U record on the road.
These NFC North rivals have stayed below the number in eight of their past 10 matchups, including a 21-16 Packers win at Lambeau Field in Week 2 that stay Under the 43-point total.