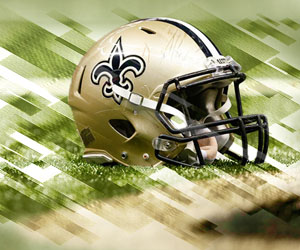 The 2019 NFL regular season is in the books and preparation for the postseason has begun for 12 teams qualifying for a run at the Super Bowl. Before the playoffs kick off with Wildcard Weekend, top handicappers look back at the best and worst NFL bets and why those teams either cashed in or crapped out.
Best Pointspread Bet: New Orleans Saints 11-5 ATS
The Saints' 2019 season was split into two: with Drew Brees and without. But both sections of the schedule were equally as profitable. New Orleans started the season by splitting the first two games and lost Brees to a thumb injury in Week 2, turning the team over to backup quarterback Teddy Bridgewater.
With books discounting the Saints' spreads with a No. 2 under center, Bridgewater became a model game manager and led New Orleans to five straight wins with a perfect 5-0 mark against the spread. Then Brees returned in late October and the team continued to cash in, finishing the season with a 7-2 SU record, going 6-3 ATS in those final nine games including three straight winners to wrap the regular season.
Worst Pointspread Bet: Chicago Bears 4-12 ATS
A year removed from a 12-5 ATS record in 2018 – best in the NFL last season – the Bears struggled mightily on offense, managing only 17.5 points per game. That wouldn't be enough to top those raised expectations in 2019, with Chicago set as a pointspread favorite in 10 of its 16 games this year.
The defense remained the strong point for the Bears, who limited the opposition to just under 19 points per game. But as the scoring attack came up short and ranked 25th in third-down conversions, the Chicago stop unit found itself on the field more than it would like. The Bears defense also lacked the disruptive nature of last season, recording only 19 takeaways and 32 sacks in their 16 games.
Best Over Bet: Tampa Bay Buccaneers 12-4 Over/Under
A glance at Jameis Winston's historically strange season says it all for total betting in Tampa Bay this season. Winston became the first NFL quarterback to throw 30 or more touchdowns as well as 30 or more interceptions. In a sense, he was generating points with both actions with many of those interceptions going back to the end zone for six points.
The Buccaneers defense was actually a solid unit when you peel back all those extra possessions given away by Winston. Tampa Bay was No. 1 versus the run but allowed bigger gains through the air, with 57 passing plays of 20 or more yards and 14 passes of 40+. In the end, it all equalled up to an average of 56.7 total points on the scoreboard per game.
Best Under Bet: Buffalo Bills 4-12 Over/Under
The Bills sat tied with the Pittsburgh Steelers for the best Under bet in the NFL but at least with Buffalo it was by design. Unlike the Steelers, who went three quarterbacks deep into their depth chart, the Bills built their road to the postseason on grind-it-out low-scoring football, anchored by one of the best defenses in the league: allowing only 16.2 points per game.
Offensively, Buffalo was built for Unders. The team ran the football on almost 46% of its snaps and finished eighth in terms of rushing yards per game. The passing attack was relatively subdued, with quarterback Josh Allen passing only 32 times per game and averaging 6.3 yards per attempt. That left scoreboard operators bored in Buffalo, with Bills games posting a combined 35.8 points per Sunday.