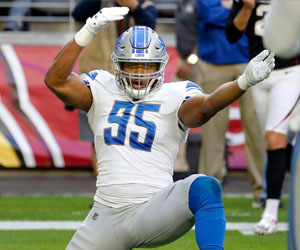 The 2019 NFL season is four weeks old which means football bettors can begin to put weight into these early-season sports bet odds. We take a look at the best and worst bets so far for those playing the NFL pointspreads and Over/Under odds.
Best bet: Detroit Lions 2-1-1 SU/3-1 ATS
There are a handful of teams at 3-1 ATS through four weeks of action but the Detroit Lions standout for their efforts, especially a near upset over the Kansas City Chiefs in Week 4. The Lions were supposed to be the bottom team in a competitive NFC North but has stunned its way to the top of the ATS standings.
Detroit has a dangerous defense that just held Kansas City quarterback Patrick Mahomes without a passing touchdown, and covered as 6.5-point home underdogs in a 34-30 loss on Sunday. On the year, the Lions have eight takeaways from the stop unit and complement that aggressive defense with a high-energy offense that can strike for big plays.
Detroit is on the bye in Week 4, but will be back in action against the Green Bay Packers in Week 5.
Worst bet: Miami Dolphins 0-4 SU/0-4 ATS
The Miami Dolphins are in the running for the worst team in NFL history, after full on tanking to start the 2019 season. The franchise has traded away top talents and has been a sizable underdog in all four games, which makes the fact that they've been unable to cover even more impressive – or depressing, depending on how you look at it.
The Fish opened the schedule with a blowout 59-10 loss as 7-point home underdogs in Week 1, then gave 18 points to the visiting Patriots in Week 2. Miami followed that with a 22-point cushion against the Cowboys before getting 15 points in Sunday's loss to the LA Chargers.
Thankfully, Miami is off in Week 4 and matches up with Washington for a horrible game in Week 5.
Best Over bet: Baltimore Ravens 2-2 SU/ 3-1 Over/Under
The Ravens offense has put up a pile of points in the early workings of the schedule, including that 59-point explosion against the Dolphins. However, while the offense seems to be petering off, the defense has struggled in recent games, leading to big scores versus Kansas City and Cleveland.
Baltimore has a divisional rival in Pittsburgh in Week 5 with a very low total of 42.5 points.
Best Under bet: Buffalo Bills 3-1 SU/0-4 Over/Under
Good defense and poor offense are what great Under bets are made of. Buffalo has that in spades. The Bills just limited the Patriots to 16 points in a Week 4 home loss and have kept opponents below 17 points in all four outings so far this season. The Bills' scoring attack has leaned on the ground game significantly in this span, which keeps gains short and the game clock moving.
Buffalo has the lowest total on the board in Week 5 at 38.5 facing a Titans team cut from a similar cloth.