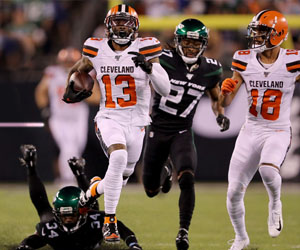 Sunday Night Football has a hell of a headliner for Week 3 of the NFL season, with the Los Angeles Rams taking on the Cleveland Browns. Oddsmakers have the Browns set as 3-point home underdogs with the total at 49 points.
If you're looking to make a profit from this primetime game, here are some sports bet picks to factor into your NFL bets Sunday night.
Brown out
The Cleveland offense was supposed to be a force of nature in 2019, with quarterback Baker Mayfield in his second season and the team adding star wide receiver Odell Beckham Jr. in the offseason, alongside fellow former LSU standout Jarvis Landy.
Two weeks into the schedule, however, Cleveland's scoring attack is sputtering. Th Browns mustered only 13 points in a blowout loss to the Tennessee Titans at home in Week 1, and then couldn't get distance on the scoreboard against the New York Jets in Week 2 until Beckham found space in blown coverage for touchdown strike in the third quarter, putting Cleveland ahead 23-3.
Now, the Browns are back home and taking on a much tougher stop unit Sunday night. The Rams defense looked a little shaky in Week 1, allowing 24 second-half points in a win at Carolina, but tightened up against the Saints in Week 2 – with some help from an injured Drew Brees. Aaron Donald is the best defensive player in the league but has yet to record a sack through two outings. Expect L.A. to turn him loose on Mayfield and the Browns offensive line Sunday.
Run away
One of the big questions facing this Rams team following their loss in the Super Bowl was the health of star running back Todd Gurley. Gurley was limited down the stretch and in the playoffs due to knee issues, but looks good after two games in 2019. Gurley rushed for 97 yards in Week 1 and broke for 63 yards and a touchdown in Week 2.
Cleveland was gashed by Tennessee running back Derrick Henry in the season opener, getting roughed up for 84 yards and a score as well as 123 total yards on the ground from Tennessee. The Browns gave up 93 total yards rushing to the Jets last Monday but a lot of that success had to do with New York's QB injuries, allowing Cleveland to cheat and stack against the handoffs.
Last year, the Browns ranked in the bottom half of the NFL in yards allowed per carry, watching opponents run for 4.7 yards per rush attempt. The Rams, who averaged 4.8 yards per run in 2018, are just behind that average at 4.5 in 2019.
Get wet
The extended forecast for Cleveland is calling for showers Sunday night after a full day of rain. There is a chance of thunderstorms as well, with winds around 12 mph with gusts getting up to 19 mph.
A slick surface and slippery ball could make run routes and catching challenging for two teams looking to pass first – especially the fair-weather team from California.
Los Angeles hasn't really had to open up the passing playbook to much through two games. The Rams ran the ball in the second half of their win over Carolina, trying to preserve an early lead, and scaled back the passes in the final two quarters against New Orleans with the game in hand last week.