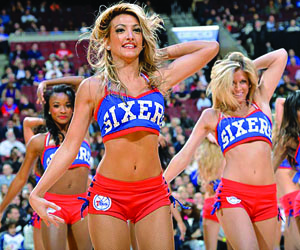 Venue can have a huge say in performance, even at the professional level. Perhaps that's why these three NBA teams have been incredibly two-faced when it comes to their ATS results so far this season. Current sports betting trends show they have no problem covering at home but can't seem to cash in on the road. Basketball bettors should be very mindful of their schedules:
Detroit Pistons (7-2 ATS at home/1-8 ATS on road)
No teams suffers such ups and downs depending on where they play than the Pistons. Detroit averages 102 points per game in Motown, while giving up only 89.1 points against in front of their home faithful – second lowest in the league. But put the Pistons in foreign territory and their scoring dips to 93 points per game and opponents run them off the floor, scoring 105 points in those contests. Detroit's shooting overall drops a few ticks when away from home – like most teams – but it the Pistons' 3-point accuracy that really suffers, going from 37 percent at home to 27 percent on the road.
Philadelphia 76ers (7-3 ATS at home/1-5 ATS on road)
The Sixers have finally given Philadelphia faithful something to cheer about – at least when it comes to covering the spread at home. Their young roster is putting up fairly consistent numbers no matter where they play but it's the defense that has failed to make the trip each time out. Philadelphia is allowing 104 points per game as a host but almost 116 points per outing on the road. The crazy thing is that the 76ers have been an average underdog of +12.8 over those six road outings, and could only cover once with all those free points.
New York Knicks (7-3 ATS at home/2-5 ATS on road)
The Mecca of basketball has been kind to its Knicks this season, with New York outscoring opponents 105.4 to 103.1 inside Madison Square Garden. Take the Knicks away from MSG and they only notch 100.3 points per outing versus 111.7 points from opponents. The big difference is defending the 3-pointer. The Knicks rank third in the NBA in limiting 3-pointers at home, with foes shooting just 31.3 percent from beyond the arc in New York. However, on the road, the Knicks watch opponents drain almost 42 percent of their looks from distance for an average of 22.9 3-pointers made per game – that's 68.7 points!