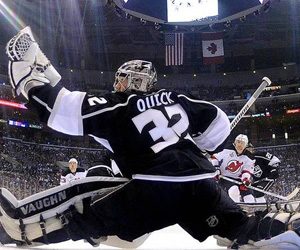 Most futures markets offer little value, with the elite teams in the league priced to protect the book from their inevitable postseason success. That holds true in the NFL, college football, MLB and NBA – but not the NHL.
Hockey's postseason is one of the most unpredictable tournaments in pro sports, and has produced some surprise contenders in recent years. That means some juicy returns on those team's futures. In this 
sports handicapping article
 we will look at a few Stanley Cup sleepers to consider as the NHL marches toward the playoffs
Los Angeles Kings (+2,500)
If you're going to have a problem with your roster, the L.A. Kings have the best kind of problem. With No. 1 goalie Jonathan Quick missing time with injury recent, backup Darcy Kuemper stepped up and excelled between the pipes, boasting a slim 1.93 GAA. Now that the former Conn Smythe winner is healthy, Los Angeles isn't sure which goaltender to roll with.
The Kings are one of the better defensive clubs in hockey, holding opponents to 2.4 goas per game (second lowest in the NHL) on an average of 31.2 shots and not giving up much on special teams, with the second-best penalty kill units in the league. Offensively, L.A. is scoring just under three goals a game and with the addition of some scoring talent at the trade deadline, this club could quickly be a serious Cup contender.
Calgary Flames (+3,000)
The Flames are third in a very competitive Pacifica Division, thanks in large part to their play on the road. Calgary is an impressive 16-6-1-4 in the role of visitor so far this season – second-best road record in the NHL. And when it comes to advancing in the playoffs, teams must be able to steal a game away from home.
There are some lingering issues with the Flames right now, namely the health of goaltender Mike Smith and the shakiness of backup David Rittich. The offense isn't good enough to overcome that weakness in the crease, but there is room for improvement with Calgary's scoring attack. The power play is lacking teeth and while the Flames fire a lot of shots on goal, the scoring chances aren't quality ones.
St. Louis Blues (+1,600)
St. Louis is another team that excels on the road, riding a 15-9-3-0 away mark into this week. The Blues are very sound on the blueline, holding foes to 2.5 goals on 30.2 shots per game and killing off almost 82 percent of their opponents' man-advantages. Offense has been a different animal, however.
The Blues' scoring has been terribly inconsistent with the team averaging 2.8 goals – 18th in the NHL – but putting 33.3 shots on goal – eighth most in the league. St. Louis hasn't been able to turn power plays into quality chances and could benefit from an added scorer or two before the deadline is done.
Philadelphia Flyers (+2,000)
The Eagles did it. Why not the Flyers? Philadelphia is quietly creeping up the Eastern Conference standings with a solid start to the post-All-Star break schedule, including a huge road win in Vegas. The Flyers are a very balanced squad, netting 2.9 goals for and 2.8 goals against. That defensive number could be slimmed if Philly tighten up on special teams. It current ranks 29th in penalty kill at 74.6 percent.
Goaltending could be another sore spot for the Flyers with No.1 Brian Elliott dealing with injuries and backup Michal Neuvirth not instilling much confidence. If Philadelphia can build on its current momentum, add a top goal scorer and fix a leaking penalty kill, the Flyers could be a stunner coming out of the East.