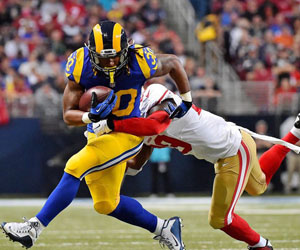 The NFL Week 16 schedule serves up a triple-header of football betting action on Saturday, with three games spanning the day. If you're settling down for a long winters night and betting on these matchups, here are the NFL sports bet odds and angles you need to factor into your handicapping this Saturday:
Houston Texans at Tampa Bay Buccaneers
The Texans are coming off an important divisional win over Tennessee and are set as field-goal favorite at Tampa Bay in Week 16. Houston can lock down the divisional with a victory and a Titans loss on Sunday, so there's plenty of motivation for the visitor in this game.
The Bucs won't roll over despite having little to fight for. Tampa Bay has won four in a row, exploding for an average of almost 35 points per game in that span while going 3-0-1 ATS. Quarterback Jameis Winston may be running out of targets, however, with top receiver Mike Evans out for the season and second target Chris Goodwin out for Week 16.
The total for this 1 pm ET kickoff is set at 50.5. Houston is 6-9 Over/Under on the season while Tampa Bay sits 11-3 O/U.
Buffalo Bills at New England Patriots
Playoff position in the AFC East is on the line when the Bills visit the Patriots Saturday. New England is a touchdown favorite at home, but these rivals battled to a 16-10 Patriots win at Buffalo in Week 4 – one of New England's toughest games of the season.
The Patriots needed a pick-me-up after two straight losses and got that versus the Bengals. While their offense was slow to start, it gained ground in the second half and looked to finding its form ahead of this important matchup. New England's running backs were especially involved in the offense this past Sunday and bettors should expect the same approach in Buffalo.
The Bills scored a big win at Pittsburgh on Monday Night Football, a showcase for their defense. Buffalo has won five of its last seven while keeping six of those opponents to 20 points or less. The total for this AFC East matchup is set at 38.5 with New England owning a 5-9 Over/Under record and Buffalo sitting 3-11 Over/Under on the year.
Los Angeles Rams at San Francisco 49ers
This NFC West rivalry is very important to San Francisco, which watched its standing swing from first in the NFC all the way to fourth with a loss to Atlanta this past Sunday. The 49ers are fighting to catch Seattle in the conference but have a laundry list of injuries leaving them thing throughout, especially in the secondary.
The Rams are long shots to make the postseason cut and are licking their wounds after a one-sided beating in Dallas in Week 15. Los Angeles, however, has played divisional opponents tough with a 3-1 ATS record versus NFC West foes. Oddsmakers are giving LA 6.5 points on the road in Week 16.
The total for Saturday's night game is set at 45 points. The Niners come in with a 7-7 Over/Under record while the Rams are 5-9 Over/Under in 2019.