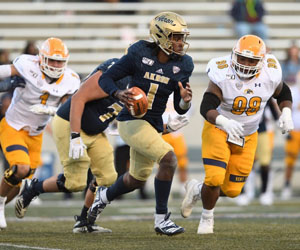 With the college football regular season coming to a close and bowl season on the way, we look back at the best and worst bets in the FBS, from pointspread sports bet picks to the top Over and Under moneymakers in the NCAA ranks.
BEST ATS BET: Clemson Tigers 10-3 ATS
Say what you want about Clemson's role in the College Football Playoffs and the weakness of the Tigers' ACC schedule but even when oddsmakers tried to level the playing field with a pointspread, the defending national champs prevailed.
Clemson boasted an average margin of victory of more than 35 points per game. And wasn't puffed up from some weaker cupcakes in non-conference games either. The Tigers decimated the ACC, put up an average score of 54 points over their last six games including 62 points in the ACC Championship over Virginia. Whatever happens in the CFP, Clemson will be always be the champ to college football bettors.
WORST ATS BET: Akron Zips 1-11 ATS
The Zips were nearly perfect in an unperfect way for 2019 but managed to finally cover the spread in the second-last game of the season, losing 20-17 to Miami-Ohio as 29-point road underdogs in Week 13. But they followed up that effort with an egg against Ohio, losing 52-3 as 27.5-point home pups. That's more like it.
Akron managed to scrape together just over 10 points per game this season – 130th in college football – and had the stopping power of wet Kleenex, giving up more than 36 points against per outing. The Zips were limited to seven points or less in seven of their 12 games on the year, including back-to-back shutouts in Weeks 8 and 9.
BEST OVER BET: Michigan Wolverines 9-3 O/U
Michigan sits tied with two other FBS programs as the top Over play at 9-3 Over/Under (SMU and UMass), however, we're singling the Wolverines out because college football bettors would have never pegged them as the best Over pick. Michigan's defensive prowess along is enough to blindly side with the Under, giving up only 19.5 points per game – 18th lowest in the country.
On the other side of the ball, the Wolverines offensive woes are well documented heading into 2019 but with quarterback Shea Patterson leading the charge, Michigan was able to score 31.9 points per game against Big Ten opponents and did the lion's share of the work when it came to playing Over the number.
BEST UNDER BET: San Diego State Aztecs 1-11 O/U
The Aztecs' blend of hard-nosed defense and methodical rushing offense was the perfect recipe for Unders this season. San Diego State carried the ball on 56% of its snaps and on average collected just 4.7 yards per play but SDSU was solid in converting on third and fourth down, and finished with an average time of possession of 33:09 – ranked ninth most in the country.
Defensively, the Aztecs didn't allow for much when their opponent did get to touch the football. San Diego State gave up only 14 points per game, allowing their opponents to run an average of only 65.6 plays. They finished the schedule with six straight Under winners, keeping all six opponents to 17 points or less in that final stretch.